Get ready for the newest, most exhilarating and spectacular cruise experience to arrive in Australia. The brand new billion-dollar cruise liner, Ovation of the Seas, is heading this way! And it's about to redefine Australian cruising as we know it.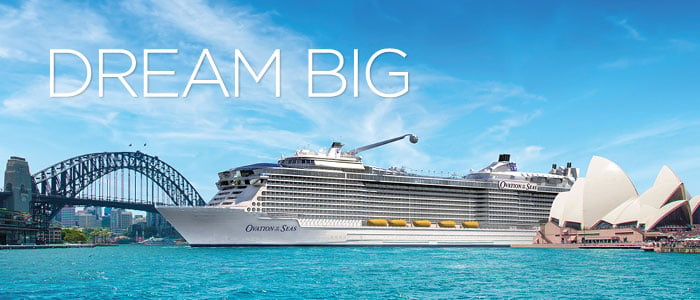 Ovation of the Seas
Royal Caribbean's Ovation of the Seas will become the largest cruise ship ever to call Australia home when she arrives for the peak summer season in December 2016. She'll be the fifth ship in the Royal Caribbean Australian fleet for the summer 2016/17 season, joining the Voyage of the Seas, Explorer of the Seas and Radiance of the Seas in Sydney, and Legend of the Seas in Brisbane.
As well as being the largest cruise ship to call Australia home, playing host to 5000 guests and 1500 crew, Ovation of the Seas will also be the most technologically advanced. In fact, there's so much that's new and exciting about Ovation of the Seas that we've pulled together a 10 incredible things you need to know:
1. Skydiving at Sea
Unbelievable but true, Royal Caribbean has combined cruising with one of the most exhilarating adrenaline activities! Join up for the first skydiving experience onboard a cruise ship. Ripcord by iFly brings a new groundbreaking above-ship experience that has simply got to be seen to be believed. Time to add skydiving at sea to your list of once-in-a-lifetime experiences.
2. North Star aerial observatory
Want a 360-degree view that's higher than the pylons on the Sydney Harbour Bridge? Then you'll want to be in Ovation of the Seas' North Star aerial observatory. It's a jewel-like glass observation capsule that will gently elevate you to over 90 metres above the sea. You'll get fantastic 360-degree birds eye views wherever you travel. Just imagine the photos you'll snap from up there!
3. Cocktails and robots
Ovation of the Seas isn't shy of new technology. In the new Bionic Bar powered by Makr Shakr you can order your favourite cocktail on a tablet – then sit back and be served by two amazing robotic arms, whilst you tune into music by the local DJ.
4. Amazing Two70 venue
The new Two70 venue is a sumptuous lounge with 270-degree views by day and a multi-media entertainment space by night. Live performers, music and special effects mix with advanced digital displays, Vistarama and Roboscreens to immerse you in lots of new shows and events. Plus, The Royal Theatre will host Broadway-style hits together with a new headline show called Sonic Odyssey, which has been inspired by musician and innovator William Close.
5. Smart Ship connectivity
This is the most connected ship at sea! You can be online and connected 24/7 with high-speed Wi-Fi that matches speed of onshore broadband connections. Download the latest Royal iQ app that enables you to manage every bit of your onboard holiday, including booking your spot at each of the 18 onboard restaurants.
6. New era of cruise dining
Welcome to the new era of dining at sea. Your dining venues will range from the fun and casual to the formal and refined. Choose from 18 distinctive restaurants, which include a new multi-sensory venue Wonderland Imaginative, together with three restaurants formed in partnership with three world-renowned chefs – Jamie Oliver, Michael Schwartz and Devin Alexander. And there are no fewer than five complimentary, full-service restaurants to tempt your taste buds. You'll be spoilt for choice!
7. Gigantic adventures
The huge Seaplex is set to be the largest indoor sports and entertainment complex at sea. There are so many firsts onboard Ovation of the Seas, but you won't overlook the bumper cars, circus school with flying trapeze, roller skating, basketball court and much more to be found at Seaplex. It's great fun for kids and grown-ups!
And Royal Caribbean's award-winning Adventure Ocean youth programme just gets bigger and better. A fully equipped Adventure Science Lab and the first wave pool at sea will debut as part of the DreamWorks Animation Madagascar-themed H2O Zone. Don't forget to add surfing at sea to your list of first experiences!
8. Top form
There's no excuse not to stay fit. Ovation of the Seas will have a state-of-the-art fitness centre with Technogym equipment, a professionally instructed Flywheel and TRX. And there's nothing like the Beach Boot camp classes, devised in conjunction with former NFL linebacker Dhani Jones.
9. Shopping the brands
Ovation of the Seas' spectacular retail offering will be showcased in the Royal Esplanade and the Via. Make your cruise just that little bit more special and take home goodies from an unprecedented collection of global brands including Cartier, Kiehl's, BVLGARI, Hublot and more.
10. Incredible choice of staterooms
Everything about your Ovation of the Seas' stateroom speaks of sophistication and space. There are 2,090 staterooms aboard this Quantum-class ship, which are an average 9% bigger than their equivalent aboard an Oasis-class ship. You'll find plenty of family-connected staterooms to suit all sizes of multi-generational families, and new balcony and interior studio staterooms specially designed for singles.
And you'll never worry about losing your cabin key because you'll be wearing the latest radio frequency 'key' wristband technology. Royal Caribbean's Ovation of the Seas will be the smartest ship at sea, with a remarkable level of technology that will provide a real high-tech holiday experience.
Not only will this Quantum-class ship be able to proclaim herself the largest cruise ship to call Australia home, with the largest indoor sports and entertainment complex at sea, but she's the latest in energy efficient ships. Her new-design hull incorporates an "Air Lubrication System" which reduces the hull's friction with the water and lessens fuel consumption. And she's been built with advanced emissions purification systems, which remove more than 97% of the sulphur dioxide emissions generated by the engines.
Royal Caribbean's Ovation of the Seas introduces so many new 'firsts', your cruise holiday will be a dream come true. Stay tuned for great deals on Ozcruising!
Check the latest Royal Caribbean cruises here!